Touring Seoul the cheap way!
Are you a traveler who lacks money to do expensive tours? Thinking of touring Seoul on the cheap? Or you're on a tight budget, where you  only have enough cash to last a few days, it would be hard for you to go around all the places you want to go to. Coming to Korea for me, was not definitely to have fun. Since I am a scholarship student, I don't have the money to go around and play. However, after deciding to leave our school in the rural areas and live in Seoul for 20 days, I was eager to see all the places that I have been hoping to see. And what one way to do that is to ride the normal public bus! Yes, I said it. The normal and sometimes irritating public transportation, the Bus.
When I was studying in Chungcheongnam-do, which is so far from Seoul, me and my friends would always hangout in Daejeon. For those who don't know, Daejeon is the third biggest city in Korea, being in the middle it connects all major cities from the north and south. Well, I'll write about Daejeon next time. But back to our topic. One day, we decided to eat out without knowing which bus to ride, and with one destination in mind, we rode a bus that we really don't know the route. But then because of that, we were able to go around Daejeon just riding a public bus. We were able to see all the places that we've never seen in Daejeon. And it only cost us a thousand won.
And so here in Seoul, I decided to try it out. But first, I'll introduce the Public Bus Transportation here in Seoul.

According to the Seoul Transportation Office, Korea has three major types of city buses: the Village, the Local Regular and the Local Express. Designated bus-only lanes on major roads keep city bus traffic moving quickly. Fares may be paid by cash as well as with rechargeable fare cards and 'smart chips' in credit cards or cell phones, in areas that utilize these services. Fares paid by transportation card and smart chip will be at a reduced rate.
So how do we do it! First, try to have a map with you. Try to locate all the places that you want to go to and just pick out which one you really want to get off and spend most of your time. Normally, if you are into shopping, your aim would be either Dongdaemun or Myeongdong. Second, have a phone application, or either just a Google map or Naver map on your phone that tells which bus would take you to your destination. It is also convenient since, it tells the estimated time it takes for the bus to arrive or for you to walk. Then plan it out. When you locate the places you want to see, try to group out which ones are into the nearest distance of each other. Check the bus stops of the bus you would ride and see if it would go along those places you want to see.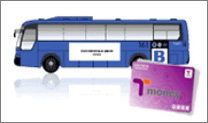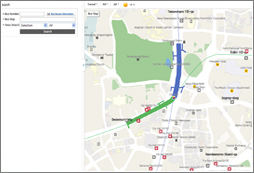 When I tried it last time, my destination was the UNESCO's World Heritage Site, Changdeok Palace. Riding the bus from my location, which was Hongdae, it took an hour but then I was able to see Sinchon Area, Ehwa University, Jongro, Gwanghwamun Avenue, The Seoul City Hall and Insadong. All of which I took pictures. This was the same with taking the bus  from Itaewon, I went to Myeondong and passed along Namdaemun and the Seoul Station. It was far better than stopping by each landmarks and spending money paying for each ride. And since it's summer in Korea, it's just too freaking hot!
Why is it more fun to ride it than the subway? Well, riding the subway is definitely fast and more convenient. But then for tourists who would love to sight see whilst traveling, seeing the light is far better than seeing that dark undergrounds of the subway. Most of the lines, especially in the southern part of Seoul are located above bridges rather than the underground but not most of them. That is why, try this out and let's see what you think.
Though at times, you will just have to be stuck in traffic or sometimes stand if you ride at the busiest times in Seoul. So when you try visiting Seoul, remember this tip and let me hear what you think.